General Polish Courses
Current:

General Polish Course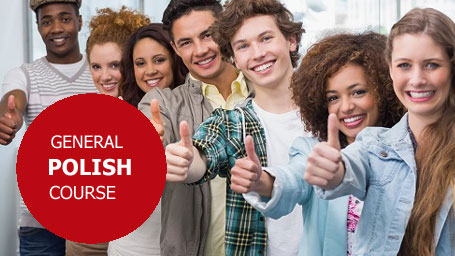 A1.1 GROUP (ZERO LEVEL)

TUESDAY / THURSDAY 18:30 - 20:00

STARTING DATE: 5.04.2022 ->> OPEN LISTS

A1.1 MORNING GROUP (ZERO LEVEL)

TUESDAY / THURSDAY 9:00 - 10:30

STARTING DATE: 8.04.2022 ->> OPEN LISTS

A1.1 ONLINE GROUP

MONDAY / WEDNESDAY 19:00 - 20:30

STARTING DATE: 4.04.2022 ->> OPEN LISTS

A1.2 GROUP (AFTER 1 SEMESTER)

MONDAY / WEDNESDAY 17:30 - 19:00

STARTING DATE: 15.02.2022 ->> 1 PLACE LEFT

A1.2 GROUP

(AFTER 1 SEMESTER)

MONDAY / WEDNESDAY 18:30 - 20:00

STARTING DATE: 8.03.2022 ->> 2 PLACES LEFT

A2 ONLINE GROUP

TUESDAY / THURSDAY 18:00 - 19:30

STARTING DATE: 18.04.2022 ->> OPEN LISTS

B1.2 GROUP

SATURDAY 10:00 - 13:00 (4 LESSONS)

STARTING DATE: 5.02.2022

Contact us if you are looking for different schedule!
Course Fee: DEPENDS ON THE TYPE OF THE COURSE ->> contact us to know the price
Days off: 16.04 - 19.04, 30.04 - 3.05, 16.06 - 19.06
What do we offer?
course matherials included (not books)
various levels of proficiency - for those who know already some Polish we prepared the pre-test
interesting programme focused on communicative site of the language
qualified language instructiors speaking various European langugaes (such as: English, German, Spanish, Portuguese, Russian, Ukrainian etc.)
various integration meetings few times a year (theatre, cinema, museum etc.) - free of charge
NEW! Polish Movie Evenings
...and the most important - great atmosphere during the Polish classes with the best teachers in Wroclaw*
* according to our Student's opinions :)
Where are we in Wrocław?
school is located in the heart of Wroclaw, just between the Railway Station and Galeria Dominikańska Shopping Centre - ul. Podwale 62a, pokój 309
you can reach us by most of the buses and trams coming from different parts of the city
if you drive a car - there is a free parkplace close to school where you can leave your car
Are you interested in our courses?

Get more information at 662-225-757 or at info@polish-world.pl or fill in the registration form.
If you are looking for more intensive course see our offer of Intensive Polish Courses here >>>