General Polish Courses
Current:

General Polish Course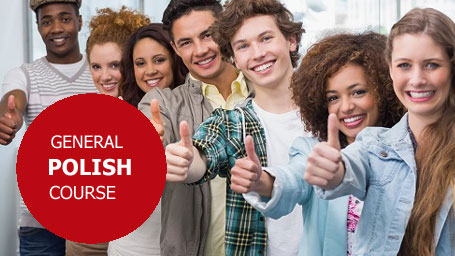 REGULAR POLISH COURSE A1/A2

Monday / Wednesday: 16:30 - 18:00

starting date: 11.10.2021

REGULAR POLISH COURSE A1

Monday / Wednesday: 18:00 - 19:30

starting date: 11.10.2021

REGULAR POLISH COURSE A2, B1

Tuesday / Thursday: 17:30 - 19:00

starting date: 12.10.2021

REGULAR POLISH COURSE A2/B1

(ONLY SATURDAY, 4 LESSONS A DAY)

Saturday :10:30 - 13:30

starting date: running course, without ending date; monthly payment

REGULAR POLISH COURSE A1, A2, B1

MORNING GROUP

REGULAR POLISH COURSE B1

CERTIFICATE PREPARATION


Tuesday / Thursday: 9:00 - 10:30

starting date: 12.10.2021

Tuesday / Thursday: 9:00 - 10:30

starting date: 12.10.2021
Contact us if you are looking for different schedule!
Course Fee: 990zł/ 1 semester (max. 8 participants)
Days off: 1.11.2021; 11.11.2021; 23.12.2021 - 2.01.2022 - Christmas break; 6.01.2022)
What do we offer?
60 lessons of Polish in 1 semester
course matherials included
various levels of proficiency - for those who know already some Polish we prepared the pre-test
interesting programme focused on communicative site of the language
qualified language instructiors speaking various European langugaes (such as: English, German, Spanish, Portuguese, Russian, Ukrainian etc.)
various integration meetings few times a year (theatre, cinema, museum etc.) - free of charge
NEW! Polish Movie Evenings
...and the most important - great atmosphere during the Polish classes with the best teachers in Wroclaw*
* according to our Student's opinions :)
Where are we in Wrocław?
school is located in the heart of Wroclaw, opposite the Silver Tower and the railway station
you can reach us by most of the buses and trams coming from different parts of the city
if you drive a car - there is a free parkplace close to school where you can leave your car
Are you interested in our courses?

Get more information at 662-225-757 or at info@polish-world.pl or fill in the registration form.
If you are looking for more intensive course see our offer of Intensive Polish Courses here >>>